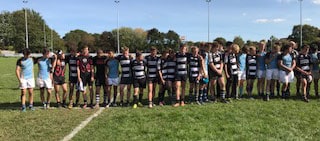 Niall Mellis Memorial Match
The Wells first XV rugby team took part in the annual Niall Mellis Memorial match at Wells Rugby Football Club against their youth team on Saturday in a friendly, but keenly fought local derby established to commemorate the life of teenager Niall Mellis.
Niall was a pupil at Wells and an enthusiastic member of Wells Rugby Football Club before his death, aged 18, from cancer in 2013. Niall was a passionate sportsman, and later due to his illness, vocal supporter at school and club rugby matches, and the Niall Mellis Trophy is a fitting testament to the character, spirit and commitment shown by this special young man.
Parents, players and supporters remembered Niall with a minute's silence before the match, joined by Niall's former housemaster, Duncan Gowan, who was visiting Wells from East Africa; as well as President of the Old Wellensian Association, Alwyn Gillen, and Chairman of the Old Wellensian Association, George Bunting.
Wells head of rugby, Alex Battison said a few words about Niall at the end of the match, before inviting Old Wellensian and immediate former England RFU President, Peter Baines, to present the Niall Mellis Trophy to the captain of the winning team, Wells' George Davies-Parnowski.
After the match Peter joined parents and players for afternoon tea provided by the rugby club. Many then stayed on to support Wells RFU first XV in their win against Oldfield Old Boys.
Alex said, "This was another competitive and entertaining fixture in memory of an inspirational young man; it remains a privilege for all to be involved in such an occasion. The game is always an excellent example of the community joining together to display and celebrate the values we all share, as well as showing off the high level of sporting performance that both Wells RFC and Wells Cathedral School support their young people to attain."