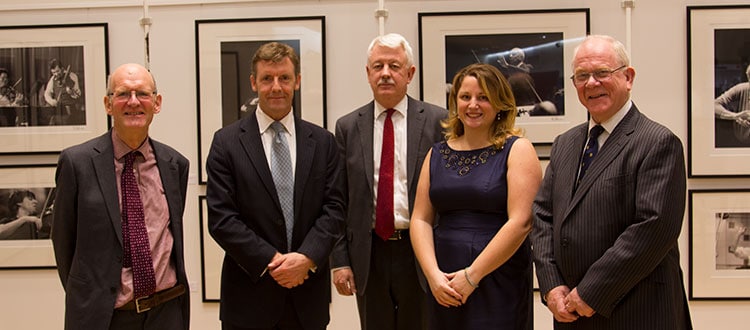 Foundation Fellow Ten Year Celebration
Over a hundred guests celebrated the ten year anniversary of the Wells Cathedral School Foundation Fellowship Awards, and witnessed the presentation of the 2017 Fellowships, at Cedars Hall on Saturday evening.
The evening comprised a drinks reception in the John Baxter Foyer, followed by dinner and presentations in the Eavis Hall from former head, John Baxter, principal, Elizabeth Cairncross, vice-president of the Old Wellensian Association and former deputy head Charles Cain, and chairman of the Old Wellensian Association, George Bunting. There was music from talented Old Wellensian pianist Victor Lim and current student percussionist Aileen Shen, freshly returned from her BBC Young Musician of the Year audition.
This year Fellowships were presented to Simon Shercliff, Ambassador to The Republic of Yemen; The Very Revd John Clarke, Dean of Wells Cathedral and school Chair of Governors until 2015; Sophie Biebuyck, CEO of Hearing Help Essex; and Peter Baines, former President of the English Rugby Football Union.
The evening was beautifully choreographed by Foundation and Alumni associate, Sylvie Barham with the help of Foundation finance officer Rebecca Roberts.