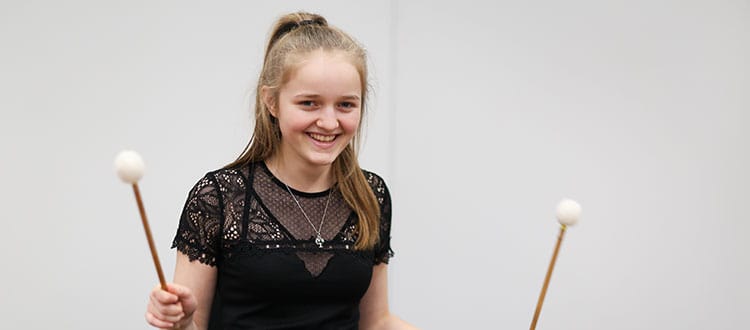 BBC Young Musician of the Year 2018 Finalist
Meadow, one of Wells' talented percussionists, has made it through to the category finals of the prestigious BBC Young Musician 2018 Competition.
Meadow is one of five percussionists from across the UK to have been selected for the finals, which will be broadcast on BBC4 in March. The grand final will take place on 13th May when three musicians will perform a full concerto with a professional orchestra.
At Wells Meadow performs with the school Symphony Orchestra and with a variety of percussion ensembles, including Ferio and PH7, Wells' drumline. Meadow led the school drum corps through the streets of the town during the City of Wells Remembrance Day Parade. She was recently filmed for the BBC coverage in Cedars Hall, the school's state of the art performing arts venue, as well as at the recent Brass and Percussion Promenade Concert at Wells Cathedral.
Head of percussion and student experience, and Meadow's specialist percussion teacher, Jayne Obradovic said, "We are delighted for Meadow, she works incredibly hard and is a terrific role model to younger students, including her two younger sisters who also study percussion in addition to their string studies at Wells!"
Meadow is over the moon to be in the percussion final – look out for coverage of her performance on Saturday 17th March.
One of Wells' pianists from last year's Year 13 cohort, Adam Heron, has also made it through to the category finals, of the Keyboards section. Adam, currently furthering his musical studies with Christopher Elton at the Royal Academy of Music, won a number of internationally significant competitions whilst at Wells, including the prestigious Intercollegiate Beethoven Competition in 2017, the Gloucestershire Young Musician of the Year and the Taunton Young Musician of the Year in 2016. He has recently won the Irish Heritage Music Bursary following his performance at the Wigmore Hall.