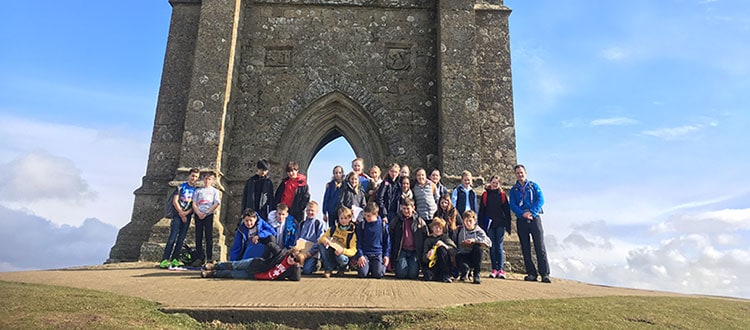 Last Tuesday, students in Year 7 took part in a field trip to Glastonbury Tor. Harry, 7K, wrote up a piece:

First of all, we came to a notice board, which told us about the Tor and the church on top of it (the original church is said to be destroyed in an earthquake in 1278). It also told us about why they built the church there, and the history of the Tor.

It was a fairly easy walk up the West Path, which was gravel and mud in some places. When we arrived at the top, we had a look around and saw Wells, Glastonbury and Street. Then, we were asked to measure the slope angle of the West Path and the East Path, using a clinometer. Our highest reading was 27 degrees, but then we measured the North East Face, and the highest angle was 40 degrees, (perfect for avalanches)! We also took bearings to the church in Glastonbury, and to Pen Hill Mast, from the map and from sight, using a compass.

We climbed back down the West Path, and went into Glastonbury High Street, and did an environmental survey, for example, tidiness,
noise, etc, on different sites, numbered 1-5. We also did a pedestrian count in two minutes. Site 2's one was 106! Then, we also did a shop survey, which confused me because there were six magic shops on the High Street, and only two convenience stores/newsagents!

Overall, we had a great day, and learnt how to look at your surroundings properly, and survey them, and to also use a clinometer and take bearings from the map and from sight.