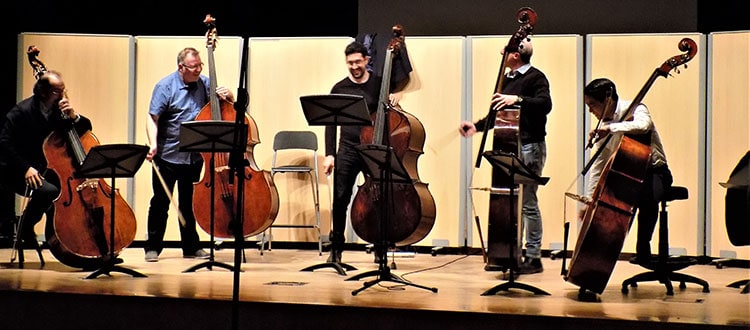 March 2018 has been a very busy and productive month for specialist double bass teacher, David Heyes. As a composer he has had music played in four countries, four were world premieres and one a UK premiere, and he has a guest competition juror, teacher and soloist at Galicia Graves (Spain) earlier in the month alongside workshops in York.

David composed two works for unaccompanied double bass, both of which were premiered by him this month – L'Alborada: Mallorcan Memories No. 2 and Seven Last Words from the Cross. This latter was commissioned by Nick Tall, one of David's ex-students at Wells, and the 21 minute work consists of seven atmospheric and evocative pieces for solo double bass and was premiered at the Parish Church of Saint Mary in West Harptree.

David has received a commission from Romanian double bass virtuoso, Petru Iuga, to write a new work, to be premiered in 2019, and is also working on a new double bass quartet called The Forbidden City, inspired by the historic palaces in Beijing and the styles and idioms of Chinese music and instruments. Aimed at the intermediate quartet, it will partner The Great Wall of China which has been performed many times both nationally and internationally, and a new version for violin quartet was premiered in Devon on 25th March.

March also saw a number of new works composed for David from friends in Britain, America, Finland and Venezuela. Over the past 35 he has commissioned more than 600 works for double bass, with over 300 dedications, and has scheduled the premiere of these new works alongside others in concerts in Britain and abroad in 2018/19.

No two days, weeks or months are ever the same for a professional musician and March 2018 was one to remember!