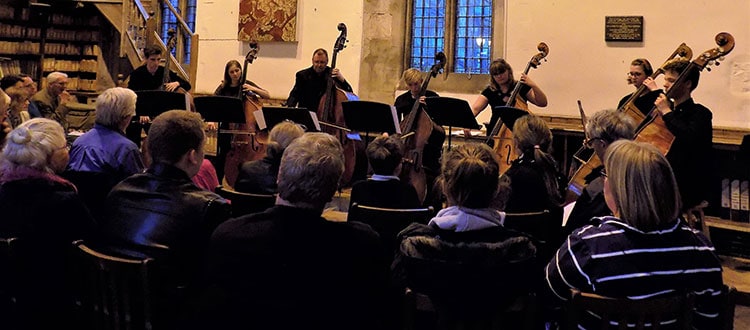 Basses Eleven! attracted a capacity audience to Quilter Hall on Friday 27th April 2018. Nine Wells bassists were joined by GMA Lucy Keller and specialist double bass tutor David Heyes for a one-hour programme of solos and ensembles. The concert featured four world premieres and one UK premiere alongside the debut performance of the Junior Double Bass Quartet (Miles, Alex W, Raphael, James). Music from the 16th-century to the present day demonstrated the soloistic qualities and versatility of the double bass, whether in solos or as a quartet, quintet, sextet or septet.

The Junior Double Bass Ensemble performed quartets by Thomas Tallis and David Heyes to open the concert. The nerves were quickly replaced by broad smiles as the rapturous applause attested to their lively and enthusiastic performances. The quartet will also feature at the Wells Double Bass Weekend in September.

Eloine performed Pieni Basso Fantasia by Finnish legend Teppo Hauta-aho and also the premiere of Prague by David Heyes, creating amazingly evocative soundscapes, contrasting jazz and classical styles prominent in the premiere of Jazzy Josie by Teppo Hauta-aho, played with great style and energy by Tom.

Five movements from Mussorgsky's Pictures at an Exhibition, expertly arranged by Simón García, demonstrated the musical and technical skills of the Senior Double Bass Ensemble (Alex H, Eloine, Jan, Constance, Tom), across the entire range of the instrument in performances of colourful intensity and panache.. Ian Pillow's Erin's Lament was beautifully atmospheric and poignant, featuring Alex H as the soloist, followed by Alex's virtuosic performances of the Allemande by Hans Fryba and the UK premiere of Salud! by Argentinian bassist-composer Andres Martin.

Jan performed the premiere of his own work Réflexion for unaccompanied double bass, composed especially for the concert, creating a moment of calm and repose before the final two works.

Lucy Keller joined the Senior Double Bass Ensemble for the premiere of Passchendaele – a Meditation for double bass sextet by David Heyes. Alex H and Eloine performed with clarity and beauty of tone as the two soloists, and the mood is generally slow and atmospheric, even more poignant as the cathedral bells sounded as the final notes were fading into the distance.

David Heyes joined the Ensemble for Tony Osborne's The Magnificent Seven, scored for double bass septet and composed in memory of the film composer Elmer Bernstein, the piece is a lively, rhythmic and exciting musical romp which brought the concert to a rowdy and rousing conclusion.