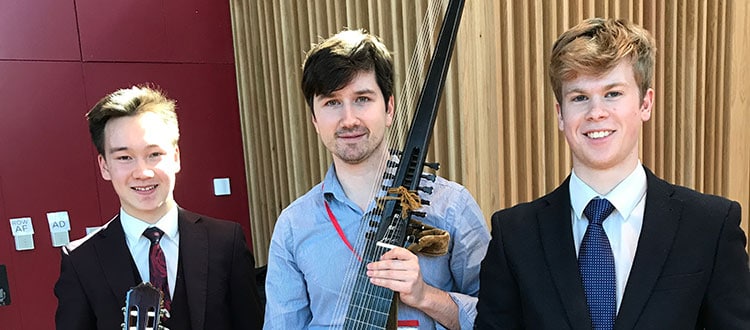 Classical Guitar Masterclass with Thomas Dunford
Wells classical guitar students Montague and Joseph recently enjoyed a masterclass the lutenist Thomas Dunford. Described by BBC Music Magazine as "The Eric Clapton of the lute…" this outstanding young performer gave a masterclass in the elegant surroundings of Cedars Hall on May 15th, 2018. 
Covering Baroque interpretation, ornamentation and performance practices Thomas helped the students respond to the harmonic structure of the music, to it's tensions and relaxations and create deeper, more musical interpretations. The masterclass didn't just focus on Baroque music but also included some 20th Century works:
"He was very encouraging," said Joseph, "I am currently working on the
Suite del Recuerdo
by Jose Luis Merlin and he really helped me to bring out the character of the pieces. I also played him the
3rd William Walton Bagatelle
and we worked on the dynamics. I was particularly impressed that he improvised in a Baroque style over the Merlin pieces, they are 20th Century and Latin American so it was fascinating to hear him improvising over them in a Baroque style!"
Thomas Dunford went on to perform a stunning recital of Bach's music that evening in Cedars Hall displaying virtuosity, delicacy and deep musicality. His programme consisted of lute transcriptions of two of Bach's Cello Suites and the Chaconne in D minor (originally for Violin). It ended with a delightful rendition of the John Downland song
Come Again, Sweet Love Doth Now Invite
.
"There is something about the sound of the lute," said Monty. "It has a unique resonance all of its own…….I felt transported and
The Chaconne
was especially powerful."
For more details on Thomas Dunford visit his website:
www.thomas-dunford.com
Or explore the following YouTube links:
https://www.youtube.com/watch?v=rN70ckTkzoQ
https://www.youtube.com/watch?v=zlIplviP2gs