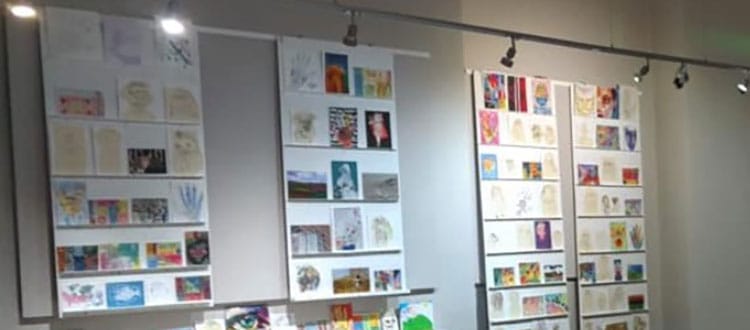 Artists' Postcards from Wells
An exhibition of Artists' Postcards from Wells and beyond was held at the Wells and Mendip Museum from March 18th to March 23rd in aid of the St Thomas's Church Development Fund.

Professional and amateur artists of all ages were invited to donate up to three pieces of postcard-size original art using any medium (including drawing, painting, mixed-media, textiles, ceramic tile or relief, printmaking, glass or photography). The works were displayed anonymously and available for purchase at £20 per item. Michael Eavis (Founder of Glastonbury Festival) sponsored and opened the exhibition.

Prizes of £25 plus tickets to the Glastonbury Extravaganza were offered for the Adult, Under 19 and Under 12 prizewinners. Highly commended artists received chocolate!

Wells Prizewinners:

Winner U12 Kyle, Year 7

U12 Highly Commended Holly, Year 7 (sold)

Winner U19 Louise, Year 8 (sold)

U19 Highly Commended Megan, Year 8 (sold) and Carla, Year 8 (sold)

Congratulations to all prizewinners and also to all pupils who submitted work to this very worthwhile community fundraising event.
As you can see, we offer #MuchMoreThanMusic! Click here to find out more about our creative arts.