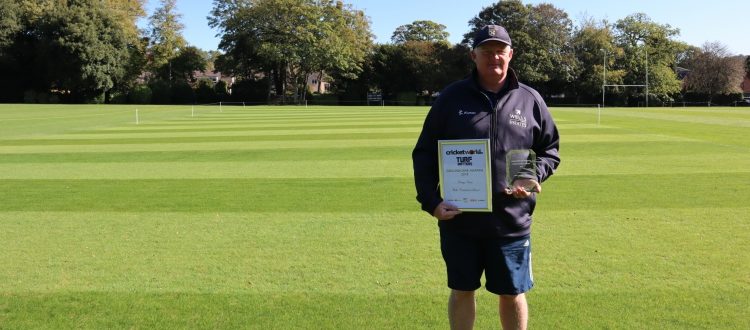 Cricket World School Groundsman of the Year
Huge congratulations to Wells Head of Grounds, Craig Keast, who has been chosen as Cricket World's School Groundsman of the Year for 2019. 


Craig attended an award ceremony at Lord's last Wednesday, along with Deputy Head of Grounds, Wayne Bradshaw, and Director of Sport, Tom Webley. Following an award-winners lunch at The Tavern Restaurant at Lord's Cricket Ground, Craig was presented with his prestigious trophy. The presentation was attended by Chris Wood ECB Pitch Advisor,  Karl McDermott MCC Head Groundsman at Lord's, Alastair Symondson, Cricket World and Scott MacCallum Turf Matters.

Editor of Cricket World and one of the judges of this year's awards, Alastair Symondson, summarised Craig's contribution to cricket at Wells Cathedral School: 

"Craig has done a truly outstanding job as Head Groundsman at Wells Cathedral School. He is in his 32nd year of service and continues to produce superb cricket wickets." 

Craig said, "Our main cricket pitch, Cedars, has 22 cricket strips with the middle 10, which were laid in 1995, built on a stone raft, when the council decided to drive a road through the school playing fields at Mundy's Meadow. We now host representative cricket on a regular basis, in addition to a packed schedule of School fixtures." 

With views of Wells Cathedral, the pitch is widely regarded as one of the finest in the County, and recently benefited from the addition of a state-of-the-art cricket pavilion.