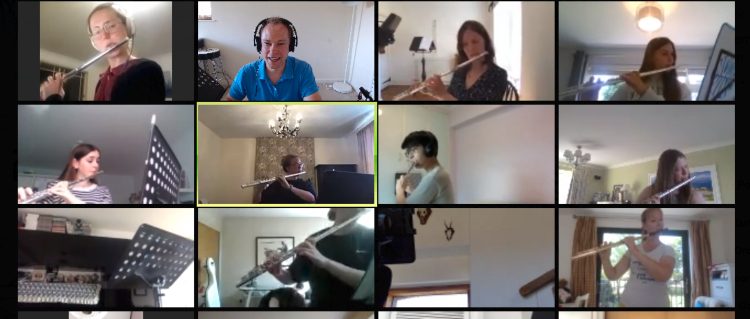 24 Boehm Caprices Inspires Flautists
On 1st June, fourteen Wells flautists came together with Elizabeth Walker and Susie Hodder-Williams in a sponsored challenge to play all 24 Boehm Caprices in one session, which equates to approximately two hours of continuous playing! They played to raise money for HelpMusicians, a charity that has been supporting musicians who have seen significant loss of earnings at this time.


Theobald Boehm's 24 Caprices are advanced studies aimed to improve technique and variety on the flute. Elizabeth Walker asked flute teachers, professionals and postgraduate students, including Philippa Davies from the Guildhall School of Music and Drama; Emily Beynon, principal flautist with the Royal Concertgebouw Orchestra in Holland; Katherine Bryan, principal of the Royal Scottish National Orchestra; and Cameron Cullen, recently one of the Wells Graduate Music Assistants, and now at Yale University in America, to record a lesson for our pupils, one for each of the Caprices. These have been released, three a week, since March, and shared with Wells flautists.


Whilst this initiative was initially designed to encourage, connect and inspire our pupils at Wells, the wider fluting community has embraced this idea with enthusiasm and many eminent flautists, including Sarah Murphy, flautist and composer living in Northern Ireland and Alyse Faith, an inspiring postgraduate flautist at the RAM, currently living back in Australia, joined them for the session.


Elizabeth Walker said, "
Our pupils helped to raise over £1,000 for the charity Help Musicians and performed all 24 Caprices with skill and brilliance. Alyse wrote after the event "I was so impressed by your students, they're truly amazing" and I couldn't agree more!"