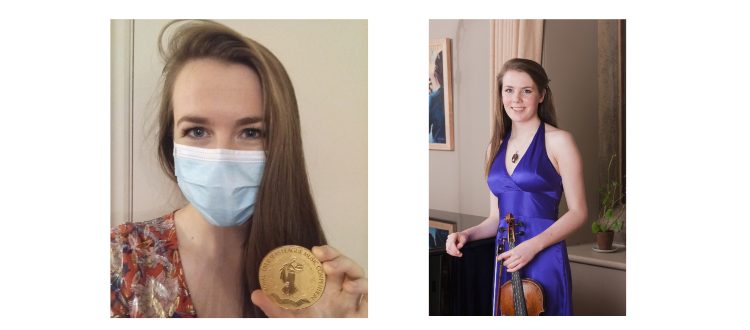 Old Wellensian Wins Gold Medal
Congratulations to Old Wellensian violinist Eleanor Corr, who has recently won the Royal Over-Seas League Gold Medal, and the £15,000 first prize in the Annual Music Competition for 2020.

After winning their solo Section Finals way back in February and March, the four finalists competing had a long wait for the opportunity to compete for the Gold Medal. Usually held in June at the Southbank Centre, this year was different, but no less important for the careers of those competing. With Covid-19 putting a halt to the usual plans, the Gold Medal Final was instead held behind closed doors at Over-Seas House with just the judging panel and musicians in the Princess Alexandra Hall.

This did not stop each of the four finalists; Sirius Chauflute, Siân Dickersoprano, Eleanor and Dominic Doutney piano; putting on a show! But it was Eleanor, with her programme of Grieg and Lutoslawski who the judging panel agreed was the winner.

Artistic Director Geoff Parkin said of her performance: "2020 has been a difficult year for all musicians, whatever the stage in their career, but I am pleased that ROSL has remained undaunted in their mission to continue to support the most exceptional young musical talent. While this year's Gold Medal Final was very different to usual, our finalists were all outstanding and I am thrilled for Eleanor Corr, whose performances of Grieg and Lutoslawski were truly engaging."

The photo shows Ellie with her gold medal, and when she in the Sixth Form at Wells.