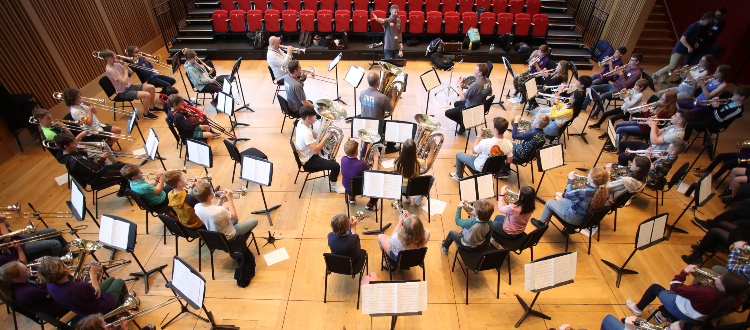 On Saturday 21st May, over 50 young people joined us at the School for a free workshop with leading UK Brass players Onyx Brass kindly supported by B&S and Courtois Instruments.
Celebrating its 30th anniversary in 2023, Onyx Brass continues to be the leading light in establishing the Brass quintet as a medium for serious chamber music, combining 'staggering virtuosity' (Sarah Walker, BBC Radio 3) with the entertaining and articulate style that has become the group's trademark. The workshop, led by our Co-ordinator of Brass Studies, Ross Brown, and the Onyx Brass quintet, spanned the course of three hours, giving everyone in attendance the opportunity to play side-by-side with the professionals. This was followed by a free pre-concert event in the John Baxter Foyer featuring Wells brass ensembles including Trumpet Choir, Horn Ensemble, Dectet and Wells Brass Soloists, before the evening culminated with Onyx Brass performing an evening concert, at which the day's participants were invited to perform.
Ross Brown said, "It was wonderful to see and hear so many young Brass players in one place! Over 50 young Brass players from all over the country joined more than 30 Wells Brass pupils to perform in two concerts and a workshop. A special thanks to Wells pupils who mentored some of the younger visiting pupils – it is an absolute joy to see music making bringing young people together, and I am so grateful to our friends at B&S and Courtois instruments for their support in enabling us to bring these experiences to the wider community free of charge."
Thank you to Onyx Brass for joining us for a wonderful day!