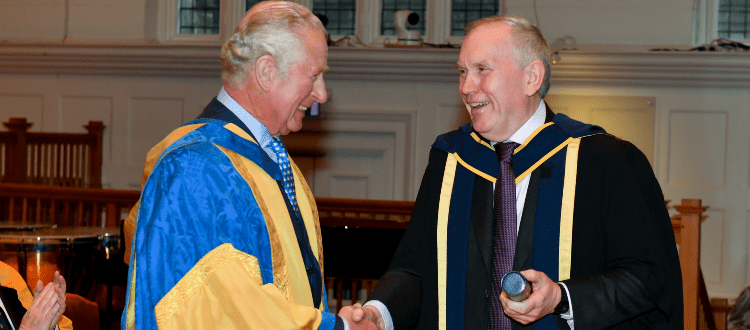 HRH The Prince of Wales Presents RCM Awards To John Byrne and OW Ashby Mayes
In May, HRH The Prince of Wales presented the School's Head of Piano, John Byrne, and Old Wellensian, Ashby Mayes, with major awards conferred by the Royal College of Music (RCM). The presentation was made at an awards ceremony attended by influential people from across the music world, including Wells' Director of Music, Alex Laing.
Ashby Mayes won the enormously prestigious President's Award – given each year to honour a student for their outstanding work in the community – while Professor Byrne was presented with an FRCM: Fellowship of the Royal College of Music.
Professor Byrne's citation read: "John Byrne has been a professor at the RCM since 1996 and his many prize-winning pupils have established him as one of the leading piano teachers of his generation with an international profile".
Congratulations to them both.
Picture credit: Royal College of Music / Chris Christodoulou