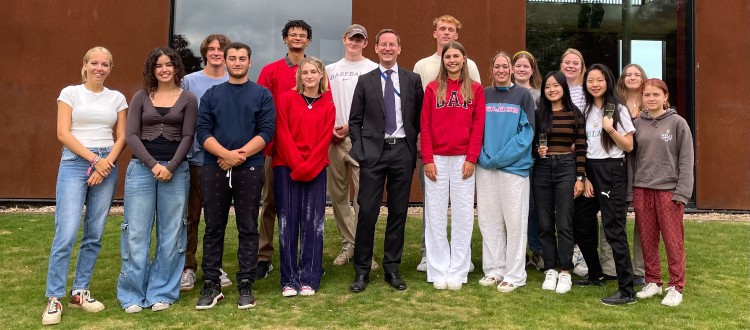 Wells Pupils celebrate Superb A Level Results
On A Level results day, Wells pupils have come together at the School to celebrate some outstanding A Level results.
Pupils enjoyed success across a range of subjects, from sciences to languages to humanities to the creative arts. 100% of pupils studying French obtained an A grade, the results in Music were exceptional even by Wells' phenomenally high standards, with 60% of pupils obtaining an A* grade, while the best performing subject of all was Geography, where all pupils obtained an A or A*.
Overall, more than 50% of pupils achieved at least one A*, with a number of pupils achieving a "clean sweep" of 3 or 4 A* grades. While reports are that the numbers of higher grades have reduced across England and Wales, Wells pupils have been able to buck the national trend and maintain the exceptionally high results achieved across the board in 2020 and 2021.
This year's A Level cohort faced the particularly tough challenge of taking their first ever public exams, following two years of cancellations due to Covid, which makes their achievements even more impressive.
These results mean that the vast majority of pupils have obtained a place at their first choice university. Well over 70% of pupils are heading either to "top tier" music colleges and universities, including Oxford, St Andrews, Durham, Bath, the Royal Academy of Music, the Royal College of Music and other Russell Group universities, where they will study a diverse range of subjects, including Oceanography, Medicine, English and PPE.
As always, many of the musicians who have obtained places at the world's leading conservatoires have secured large scholarships to support their studies.
Head Master Alastair Tighe said: "The fact that our pupils met the challenge of sitting post-pandemic public exams for the first time so brilliantly is an achievement in itself; that they collectively achieved such outstanding results is an even greater source of pride for the School and, I hope, for them and their families. The breadth of achievement is fantastic. I pay tribute to each and every Upper Sixth pupil for the resilience and aspiration they have shown, to their parents and guardians for their wonderful support and, of course, to my wonderful teaching and support staff colleagues who have so brilliantly helped these young people navigate the challenges of the last few years and ensured they can embark on the next stage of their lives with confidence and optimism".