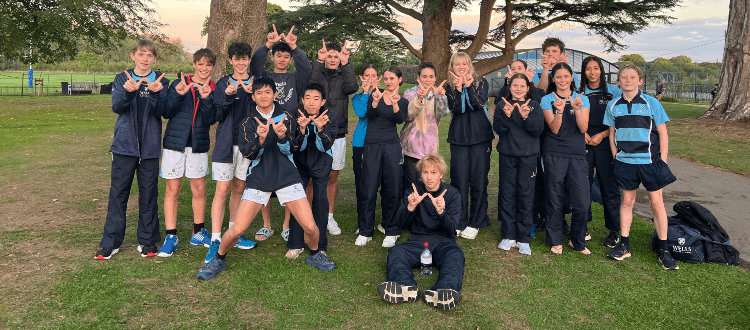 ESSA Relay Championships 2022
The School entered the ESSA (English Schools Swimming Association) South West Secondary School Team Relay Championships for the first time at the end of September.

The ESSA Relay Championships form part of a prestigious national swimming competition comprising both state and independent schools from all across the country. Both the boys' and the girls' teams competed in the 4 x 50m freestyle relay and the 4 x 50m medley relay over the course of a thrilling afternoon at the Millfield swimming pool. Leading into the event, our squad swimmers had been staunchly preparing by consistently attending training sessions, collectively displaying a willingness to improve and showing that crucial team spirit. Traditionally, the South West boasts the strongest swimming set up nationwide so this makes the efforts of our swimmers even more admirable.

The first session for our swimmers was the freestyle relays. The Junior girls (Emma Gillbanks, Petra Kidd, Olivia Bradbury and Ariane Lynn-Jones) launched the School's efforts (and didn't show any nerves whilst waiting to get the event underway)! They got the School off to flying start, posting a 13 second PB (personal best). This was quickly followed by our Junior boys (Colby McKernan, Thomas Bradbury, Ted Huzal and William Sharp) who also gave their all, posting a 15 second PB. Next up came our Intermediate girls (Alex Murray, Ariana Hamlin, Josie Jefferies and Tui Ashwell), who did themselves proud swimming another PB. The Intermediate boys (Reuben Ashton, Milo Brown, Archie Blee & Michael Turner) quickly followed, posting a brilliant time and recording a 16 second PB. Last up were our Senior squads: our girls (Maddie Wilkins, Mia Coakes Santamaria, Lara Keirle and Xanthe Knott) kicked things off with a competitive display, almost winning the heat but finishing 3rd with a 7 second PB, whilst the Senior boys (Alfie Stevens, Ian Leung, Aidan Li & Devon Mycock) posted another competitive time against some strong opposition and produced a 10 second PB.

Following a short lunch break, the second session, consisting of medley relay races, got underway. Our Junior girls were first up again, posting an impressive 8 second PB. The Junior boys then took to the blocks to secure another PB, followed by the Intermediate girls and boys, who both achieved PBs as well – the boys took an impressive 28 seconds off their previous time! The Seniors then stepped up to round off the day with the girls beating their PB by 14 seconds and the boys knocking 20 seconds off of theirs.

It was a really positive day of racing with some impressive performances at a very memorable event. We look forward to competing again next year!