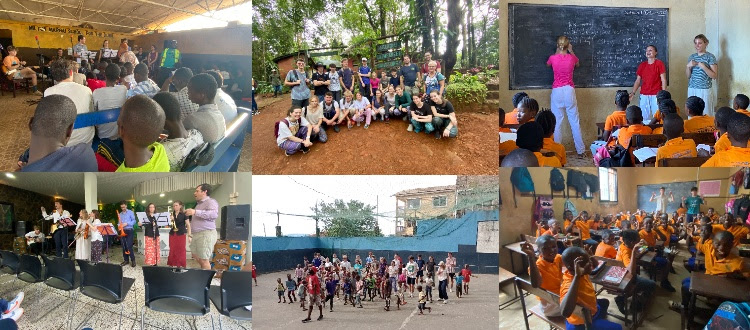 Sixth Form in Sierra Leone
Eighteen pupils from the Lower and Upper Sixth travelled to Sierra Leone over the half Term break.

The visiting musicians worked with the Ballanta Academy of Music and Performing Arts to teach their instruments and collaborate with bands whilst the non-musicians worked with the JT Reffel French Memorial School teaching games, French, Spanish and sudokus as a form of creative arts. Every afternoon the Wells pupils performed in outreach concerts in venues across the capital city of Sierra Leone, Freetown, including two concerts at the brand new auditorium part-funded by the School's Project at Ballanta and a concert at the British High Commissioner's private property. The trip also included humbling visits to the Don Bosco and SOS Children village orphanages, as well as the Milton Margai School for the Blind and Murraydeen Primary School.

What was planned to be a 10 day trip became a 13 day trip after the original return flight was cancelled, but a lot of hard work in extreme heat and humidity was rewarded with fantastic new friendships, pride and recognition of how privileged pupils are at Wells. Ms Desmarchelier, the Sierra Leone Project Manager, said on her return; "We were so proud of our pupils for the standard of delivery of the music and their teaching sessions, but mostly for the way they embraced the experience and took everything in their stride".