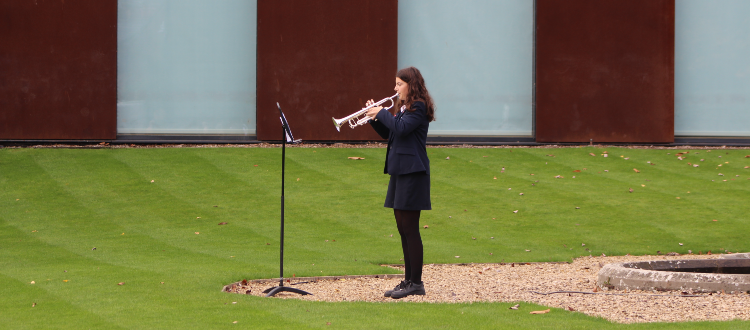 Wells Remembrance Commemorations
Armistice Day and Remembrance Sunday were marked across the School and the Wells community last week.
The Last Post was sounded by Amelie Thrale (Year 10) at the School fountain on Cedars Lawn, by Cole Craggs (Year 8) in Cedars Hall as part of the Junior School's Remembrance Assembly and by Wilkie Heath-Ourakov (Year 10) in the Town Hall at 11am on Friday to remember the fallen of the two World Wars and subsequent conflicts. This was followed by a two minute silence.
On Remembrance Sunday, the PH7 drumline lead The Royal British Legion and the School's CCF from St Cuthbert's Church to the Harry Patch Memorial as part of the Civic Parade. John 
Rutter's Requiem, a devotional performance (including the poignant 'poppy drop'), was given at 3pm in the Cathedral by the Cathedral Choir, the School's Chamber Choir and instrumentalists Lily Owens (Year 11), Harold Lee and Kit Cookson (Lower Sixth), Sonia Sung, Markus Hoppe and Will Peutherer (Upper Sixth) under the direction of Alex Hamilton, the Cathedral's Assistant Director of Music. The Chapel Choir and Choralia sung at the School's 6.30pm Service of Remembrance in the Cathedral.

Pupils performed across the community to mark their respects in Wells and beyond. Gabriel Colegate (Year 10) played in Ditcheat, Erin Davies (Upper Sixth) in Meare, Hannah Acworth (Upper Sixth) in Wells Cathedral, Emma Lane (Year 11) at the School's Service of Remembrance, Joshua Knott (Year 10) in Coxley, Grace Davies (Upper Sixth) at St Cuthbert's Church as part of the CCF Parade, Milo Brown (Year 9) at Wookey Hole Church, Cole Craggs (Year 8) in Winscombe, George Wareham (Year 11) in Doulting and Charlie Ballamy (Year 11) in Maiden Bradley.

The Last Post was also performed by Cole Craggs (Year 8) during the Monday morning School service, at which the Chapel Choir also sung.