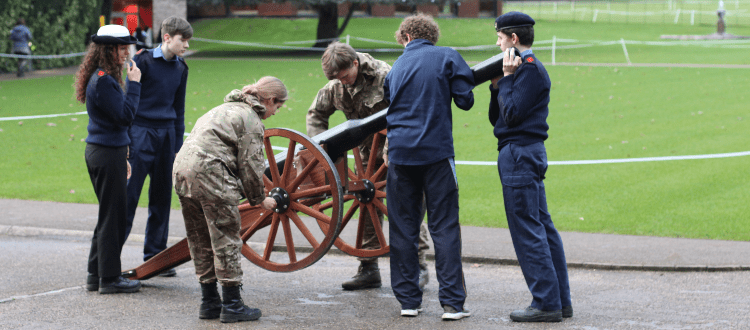 CCF Train For Field Gun Competitions
Sixth Form CCF cadets hit the ground running on the first week of the Epiphany Term, undergoing training with area instructor Chief Petty Officer Dave Gwilliam to take part in field gun competitions against other schools.

The Royal Navy's field gun competition is a contest in which teams compete to transport a field gun and its equipment over and through a series of obstacles as quickly as they can. The field gun races originate from the siege of the British garrison in Ladysmith in 1899 during the Second Boer War in South Africa. To support the British Army, the Royal Navy landed guns from HMS Terrible and Powerful and transported them across difficult terrain to help in the relief of the siege.

The Wells group split into two, each half racing towards a dismantled carriage and attaching the wheels as quickly as possible before meeting in the middle to link the carriages together and running them towards the finish line. It took a few attempts (in one instance a wheel went on the wrong way round), but practice makes perfect and the team finished feeling very pleased with their efforts. This week they will be sharing their newfound knowledge with the younger cadets!