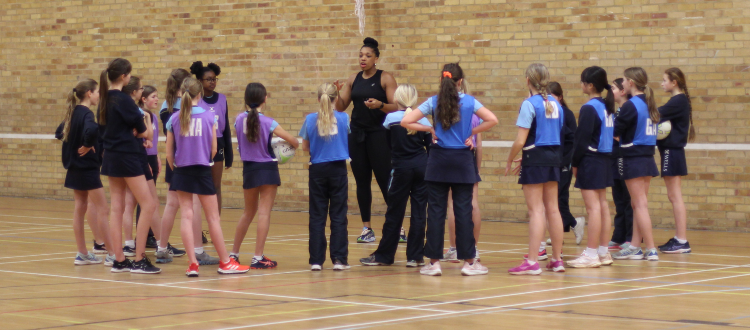 Netball with Eboni Usoro-Brown
The Sports Department were delighted to welcome Commonwealth Games Gold medal winner Eboni Usoro-Brown to Wells.
Eboni was on the England Netball team for their thrilling 52–51 win over Australia at the Gold Coast Commonwealth Games in 2018 and was capped 117 times before her international retirement. Alongside playing elite sport, Eboni trained and practises as a lawyer, having attended the University of Bristol and the University of the West of England.
Pupils from Years 7 to the Upper Sixth attended Netball sessions with Eboni in the Sports Hall throughout the day, and she gave a talk followed by a Q&A session in
Cedars Hall
after School. Pupils asked insightful questions such as how to balance academic work alongside elite sport, how to deal with nerves and how to stay motivated, and left feeling inspired by what they had heard.
Mrs Williams, Head of Netball, described the day; "
Having Eboni in for the day was a special opportunity for all. Her experience, knowledge and inspiring nature was obvious amongst the girls throughout the day. Her masterclass sessions were brilliant and every girl was able to develop their Netball and have the opportunity to ask her questions at the end. Her presentation to staff, pupils and parents at the end of the day in Cedars Hall was interesting, engaging and inspirational. Learning how to take knock backs, as well as how much hard work and balancing of time is required to reach the highest level was certainly eye-opening and useful for our sports scholars to hear. It was a great day and we cannot thank Eboni enough for spending her time with us
."
Our thanks go to Eboni and
The Mintridge Foundation
for a very engaging day.