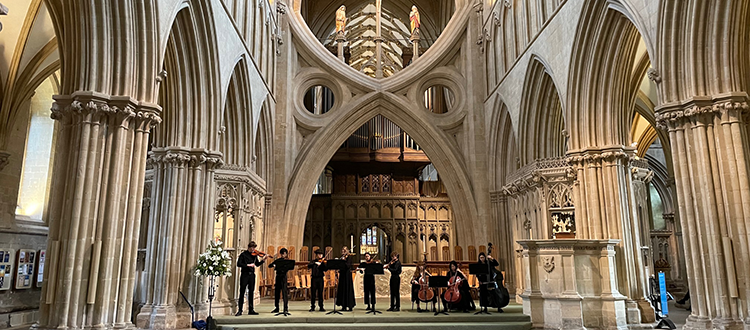 The Epiphany Term saw the return of our ever popular Promenade Concert series in Wells Cathedral.
We were delighted to share this year's Brass and Percussion Promenade Concert "Old/New" with a huge audience on a cold January evening. The Promenade Concerts have been a highlight of the Brass and Percussion Departments' musical calendars for many years, and this year they were delighted to be collaborating with pupils and colleagues from the Composition Department. The programme explored music from the 13th Century to the modern day, and presented four world-premieres for solo brass instruments composed by some of the School's composition pupils. This was a wonderful opportunity for our instrumentalists and composers to collaborate with each other and explore how they can extend the boundaries of their musical imaginations and, most importantly, to share that with us, their audience. The evening's journey through 900 years of music, both old and new, and in the surroundings of the beautiful Cathedral inspired and rejuvenated the audience for the year ahead.
The annual Woodwind and Strings Promenade Concert on 31st January
 was, as always, a special evening for both audience and performers. Our pupils excelled themselves with some truly exceptional performances from wind soloists, chamber ensembles and the Symphony Orchestra.

The Early Music Promenade Concert on 7th February presented a varied programme of chamber works with trio sonatas by Corelli, Quantz and Vivaldi, as well as works by Purcell and Scarlatti. The concert concluded with A Suite of Courtly Dances featuring a multi-instrument Renaissance-style orchestra – a first for Early Music Ensemble. The audience was treated to consorts of recorders, strings and brass, supported with multi-keyboard continuo and percussion, combining to create a wonderful, rich sound to match the opulence of the music.

Alex Laing, Director of Music, commented, "It has been lovely to reflect on three very special Promenade Concerts in Wells Cathedral. The quality of the performances, and the atmospheric surroundings of the Cathedral with subtle lighting and no seating, allowed audience and performers alike to experience, sound, space and time in wonderful ways. Our pupils responded superbly and there was no doubt that our audiences were full of appreciation."

A huge well done to all of our musicians on their wonderful performances.