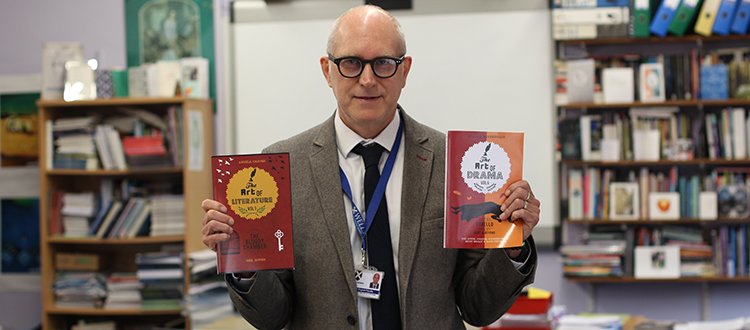 Mr Bowen co-writes two new books
Mr Bowen, our Senior School Head of English, has recently released the two latest books in his '
The Art of…
' series, which he co-authors and edits on a range of literary topics.
The series began with a couple of books on how to write literary essays to plug a gap he perceived in what was available for teachers and pupils. As these were so well received, he went on to co-produce around 20 books on teaching and reading poetry at GCSE and A level, including the very popular volume 6 on AQA's Power & Conflict GCSE anthology. Following the success of these, he has gone on to co-write books on plays and on novels or collections of stories. The latest book, for instance, is on 'Othello' and joins others in the 'Art of Drama' series on 'Romeo & Juliet', 'Macbeth' and 'Hamlet'. His co-writers range from university academics, to teachers with whom he has worked, and even some Old Wellensians who are currently studying for their PhDs in various literary topics. The books are critical guides, teaching manuals and revision tools.
Purchase
The Art of Literature, Volume 1: A Critical Guide to Angela Carter's The Bloody Chamber
here
.
Purchase
The Art of Drama, Volume 6: Othello: A Critical Guide for GCSE & A-level Students
here
.