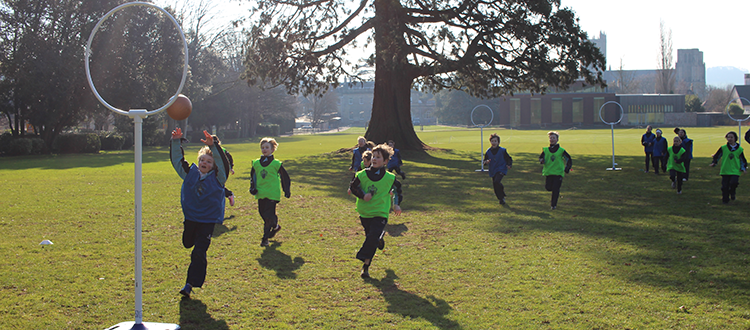 Quidditch isn't just for wizards!
The article below has been written by Clemmie (Year 6) and details her experience of World Book Day 2023.
World Book Day is a chance for many to thrive and learn, explore new worlds and dive to the greatest depths of their imagination. It makes others realise that the world does not just revolve around video games, screens and TVs. With technology becoming more and more advanced, sadly some are losing this doorway.
Schools across the world celebrate this day in many different ways, but this year Wells Cathedral School has had its best yet. The day was jam-packed with fun, with classes from Year 6 touring the vast shelves of the senior school library, bringing an item from a favourite novel and my personal favourite, playing Quidditch.
Quidditch is the main sport which wizard Harry Potter and his friends play at Hogwarts School of Witchcraft and Wizardry. Despite the fact that we Muggles (non-magical people) have not yet invented a non-magical flying broomstick, it was just as fun! We already have houses under the colours red, green, blue and yellow, which perfectly fitted the Hogwarts houses, Gryffindor, Slytherin, Ravenclaw and Hufflepuff. There is one bronze ball (the Quaffle), this is for scoring – to score you can shoot through the front or back of a hoop – the wielder of the ball is called a chaser. There's also a black ball (the bludger), which is used to throw at a chaser to get them 'out' and for your team to get the ball. In the final 10 seconds the 'golden snitch' (a person wearing gold rugby tags) is released and the seekers from each team race to steal a tag. A tag equals 50 points and if your team gets it, the game is over and you win.
So what did I take from this World Book Day? We all have magic inside of us. Magic is imagination, so use it; whether through writing your own stories, reading or art, your imagination is what makes you 'you', so let it run wild.
Well done on your fantastic account, Clemmie, and thank you for sharing it!