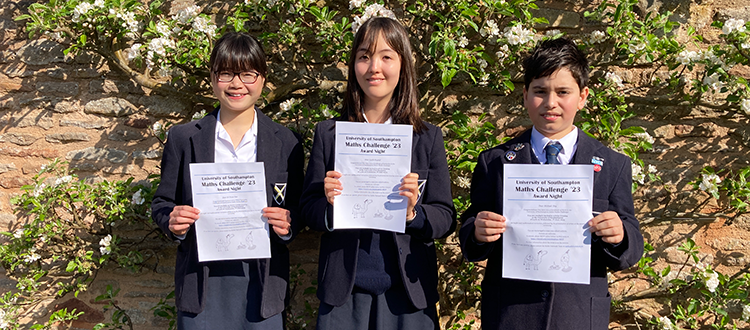 University of Southampton Maths Challenge
Pupils in Years 7 to 10 were invited to take part in this year's University of Southampton Maths Challenge.

A series of problems with an Egyptian theme were posed to pupils and they were tasked with not only solving them but also writing out full solutions to each one, explaining how they had arrived at their answers. Most of the work on this took place outside of the classroom in their own time, and this year the competition had over 1350 entrants.

We were delighted to submit solutions from Michael Dey, Oliver Vaughan, Hannah Yap and Claire Gao (Year 7), Emma Gillbanks and En Xuan Tan (Year 8) and Lucille Raynal (Year 9).

It is with great pleasure that we announce that Michael was awarded a certificate of merit, Lucille a certificate of distinction and En Xuan was awarded third place in the competition for Year 7 and 8. These prize winners have been invited to the university for a presentation evening on 7th June and we are extremely proud of them all.

Well done, everyone!