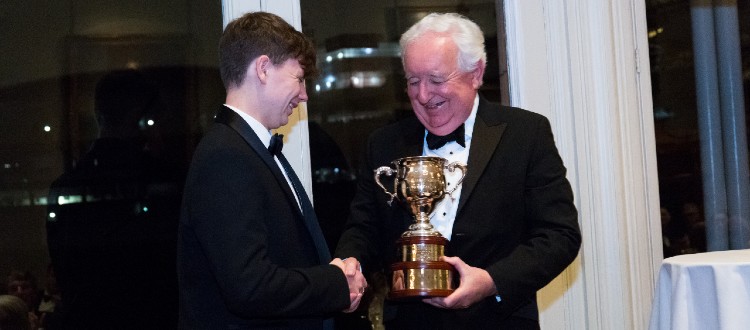 Wells wins prestigious national cricketing award
We are absolutely thrilled to announce that Wells Cathedral School has been chosen as the national winners of the enormously prestigious Forty Club Award. 
The Forty Club aims to inspire people of all ages to love cricket, and each year arranges more than 150 fixtures against independent schools, giving schoolchildren the chance to play against experienced players. 
At the end of each season, the club then selects a school to receive an award for the best fixture of the year. Criteria include sportsmanship, playing skills and behaviour both on and off the field. 
It is a huge honour that Wells was selected as the winner of the 2021 award. 
As part of winning the award, 1st XI Joint-Captain, Sam Lemmon – along with Director of Sport Tom Webley and Head of Grounds Wayne Bradshaw – was invited to receive the award at Lord's Cricket Ground. After receiving the award from Mr Peter Baxter (former Producer of BBC Test Match Special), Sam had the daunting task of giving a speech to over 250 people in the world famous Long Room. He rose the task quite brilliantly by giving a tremendous speech in which he thanked the Forty Club, paid tribute to the Wells teaching and ground staff, and gave a wonderfully entertaining and evocative description of the match, which turned out to be a thrilling encounter, despite the drizzle! 
After the event, Sam travelled back to Wells with the National Trophy, which will proudly be displayed in school reception. 
Director of Sport Tom Webley commented: 
"I'm absolutely thrilled to be recognised for such a prestigious award! The 1st XI and staff should be incredibly proud of such a fine achievement. Sam did a fantastic job representing the school and receiving the award on the big stage at Lord's." 
Sam Lemmon commented: 
"Winning this prestigious award was a phenomenal achievement for Wells, demonstrating that as a sporting school we can compete across the board. Being invited to Lords to receive the trophy was a tremendous honour, which I will never forget!"