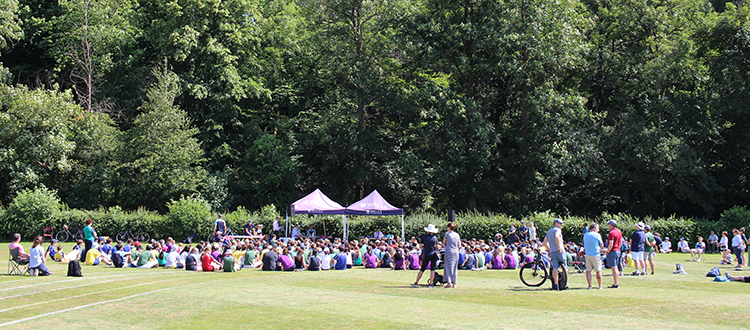 On Thursday 22nd June, we held our eagerly anticipated Senior School Sports Day!
The pupils approached the day with great excitement and looked very smart in their representative House colours. This positive energy was clear to see from the start of the day with a group warm-up led by Head of School, Alix Barruol (Upper Sixth) who did a fantastic job of preparing pupils for the events ahead on a wonderfully sunny day.
On the track the day started with some very competitive performances in the 1500m and 300m races, with School records being set in the Year 7 and Year 9 Boys 300m and the Senior Girls and Senior Boys 1500m. The standard of competition and dedication from all pupils really helped to set the tone for a day of high quality Athletics.
The morning session continued with further closely contested races on the track in the 200m and 800m events. There were many exhilarating races with records again being broken in the Year 7 Girls 200m, Year 10 & 11 200m, 800m and 400m, as well as in both Senior Girls and Boys 200m events.
In the field there were also brilliant performances during the morning session and it was a delight to see pupils supporting their fellow housemates and willing them to succeed. This support certainly paid off with further record-breaking performances in the Year 8 Girls Javelin and Senior Girls Shot Putt. Alongside traditional Athletic disciplines our showcase Tug of War event never fails to disappoint with some very powerful and determined victories on display.
In the afternoon session we were treated to some high class races in the 100m and 4x100m relay events, which created a fantastic atmosphere. Once again School records were broken in the Year 7 Girls and Year 9 Boys 100m events in addition to three 4x100m relay records being taken by the Year 8 Boys and Year 10 & 11 Boys from Cedars House and the Senior Girls from Haversham House.
The field events also continued in the afternoon with some startling distances being thrown as well as some explosive jumps being performed. Record taking was once again on the menu in the field events as the Year 7 and 8 Girls and Senior Boys Javelin records were all broken as well as the Year 9 Boys Long Jump, Year 10 & 11 Boys and Girls Triple Jump, Year 10 & 11 Boys Shot Putt and the Senior Girls Long Jump.
Once again the Tug of War showcase between Senior pupils and staff brought proceedings to a close with both Senior Girls and Boys showing great teamwork to defeat the staff.
The Senior School Sports Day was a true success and testament to the hard work pupils have applied to Athletics this Term. Highlights from the day not only include 29 new School records, but also the overall effort and commitment of our pupils. Their unwavering support of their peers created a special atmosphere that truly represents the positive values of Sport at Wells; we are incredibly proud of every pupil who participated and gave their all on the day.
Finally, a heartfelt thank you must go to our incredible Estates team who ensured the track and field areas were in superb condition, the
Parents and Friends' Association
for their continued support with the snack stand and barbecue and to the Catering Department who supplied a delicious barbecue lunch. The final word must go to the Sports Department and Head of Athletics Mr Meehan who did a phenomenal job of putting on a long day so enjoyed by our pupils.
We look forward to next year!
Keep up to date with Sport at Wells on
Instagram
and
Twitter
.