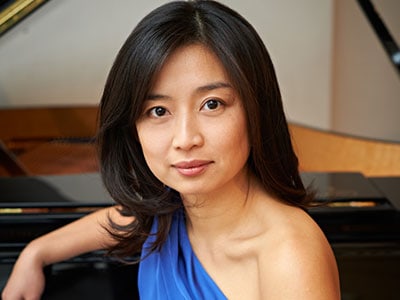 Project Description
Mei Yi Foo, Pianist
Winner of the BBC Best Newcomer of the Year award, Mei Yi Foo dazzled critics and audiences with her 'liberating' and 'virtuoso display' (The Times) at the prestigious BBC Music Magazine Awards 2013. Her 'distinct character as a player' (The Independent) combined with her 'personal, intelligent and unique interpretation' (La Opinion Granada) continue to captivate audiences across Europe, the Americas and Asia; appearing with the BBC Concert Orchestra, Fort Worth Symphony, Helsinki Philharmonic, London Chamber Orchestra and the Malaysian Philharmonic among others.
As a new music advocate, she performed at Berlin's Ultraschall Festival, Huddersfield Festival, Vienna's Schoenberg Centre, Park Lane Group at the Southbank and Das Neue Werk in Hamburg. This season Mei Yi embarks on a number of international debuts, including recitals at the Lucerne Festival, City Hall Hong Kong and at the Cemal Resit Rey Concert Hall in Istanbul, as well as concerto appearances with the Oviedo Filharmonia and Poznan Philharmonic. In season 2014/15, Mei Yi appears at the Royal Festival Hall (Philharmonia Orchestra), Casa da Musica Porto (Remix Ensemble) and Teatro Real Madrid
(Excelentia Orchestra).
A native of Malaysia, Mei Yi resides in London and enjoys playing chamber music with Dimitri Ashkenazy, Shlomy Dobrinsky, Patricia Kopatchinskaya, Antti Siirala, Ashley Wass, Hugo Ticciati, Matthew Trusler, as well as working with prominent composers such as Dai Fujikura and Unsuk Chin. Following the success of her debut recording "Recital", Mei Yi's new award-winning album Musical Toys was featured in The Times, The Examiner, Neue Zurcher Zeitung, Lebrecht's CD of the Week and garnered 5* reviews from BBC Music Magazine and Germany's Klassik.
Mei Yi Foo said, "Wells was my first glimpse into a magical musical world and played a crucial role in shaping who I am and what I do today."