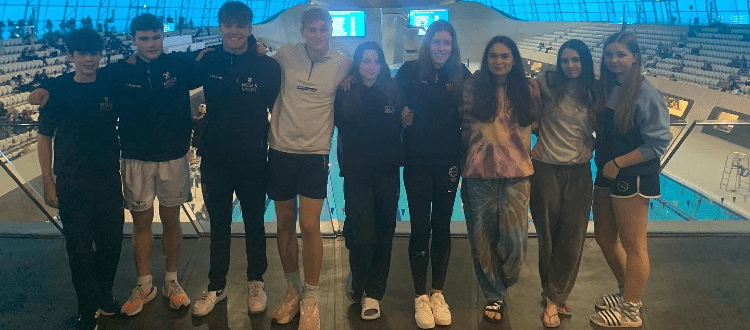 Senior Swimmers Race At Bath Cup
On Friday 11th March, the Wells Cathedral School senior swim squad travelled up to London Olympic Park in order to compete in the Bath Cup, a prestigious competition that attracts many of the United Kingdom's best independent school swim teams. Lara Keirle (Lower Sixth), Tamsin Howard (Lower Sixth), Xanthe Knott (Year 11), Maddie Wilkins (Lower Sixth), Mia Coakes Santamaria (Lower Sixth), Emily Trotman (Lower Sixth), Ethan Wright (Upper Sixth), Devon Mycock (Lower Sixth), Sebastien Barley (Lower Sixth) and Reuben Ashton (Year 9) represented the School in a series of relay races.

An early start to the day was well rewarded with a personal best time of 2 minutes and 15 seconds in the first event, a 4x50m freestyle relay involving Lara, Tamsin, Xanthe and Mia. This was followed by both the girls' team, featuring Maddie, Emily, Xanthe and Mia, and the boys' team, featuring Ethan, Devon, Sebastien and Reuben, taking part in 4x50m medley relays. Both teams swam exceptionally well and showed great promise for future races – so much so that they will be targeting a top 10 finish next year.

Well done to our senior swimmers; we wish you luck swimming forward!