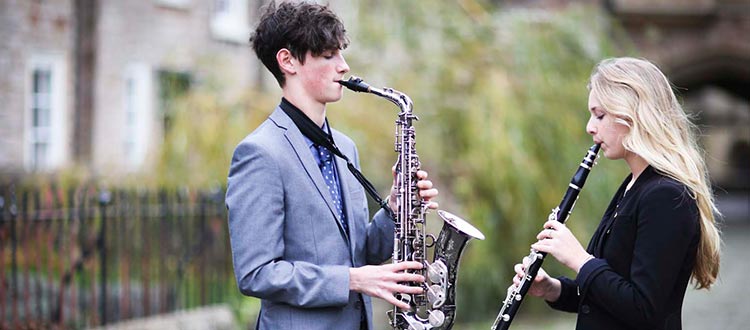 Music Scholarships (ages 8-16+)
We encourage talented young musicians to audition for our specialist music scheme. Based on the auditions, we award one of two different types of music scholarships to successful applicants: the Music and Dance Scheme (MDS) grant funded by the Department for Education (DfE) and our own Music Scholarships. Please note that due to the number of applicants and the limited number of scholarships available, not all candidates will be successful. 

About the MDS Grant
MDS grants are:
Worth up to 100% of tuition, boarding and music tuition fees.
Means tested – we calculate parental contributions according to relevant income scales provided by the DfE each year (see the table at the bottom of this page).
Only available to applicants awarded a Specialist music place.
Not open to all applicants as specific eligibility requirements need to be met.

Limited in number.
About our Music Scholarships
Our Music Scholarships are:
For candidates awarded the status of Specialist or Special Provision Musician who are ineligible for or not awarded an MDS grant.
Awarded based on merit, ranging from 10% to 50% of day fees. 
Awarded solely at our discretion.
Available in conjunction with means-tested bursaries.
For more information about our music scholarships or the MDS Grant, please contact Alison Armstrong, Deputy Director of Music, on 01749 834450 or [email protected]


How to apply for a MDS Grant / Music Scholarship
It is not compulsory but it is highly recommended that you first attend one of our Be a Specialist Musician for a Day events to find out more about music life at Wells and receive advice about your music audition. Please visit the Open Day section of our website for future dates, more information and to register.

To apply for an MDS Grant / Music Scholarship, you will need to apply to attend our Music Auditions. If you would like an audition on 1st February 2020, please complete and return our registration form (located in the right menu) and fee as well as this Music Application Form to our admissions team before 10th January 2020. Our admissions team will contact you to give you specific information about the audition.
Parents' annual contribution to fees 2019/20 for MDS Grant Recipients


| Relevant Income (£ per annum) | Day | Boarding |
| --- | --- | --- |
| 10,000 | £0 | £0 |
| 20,000 | £348 | £540 |
| 30,000 | £1,350 | £1,683 |
| 40,000 | £2,349 | £3,079 |
| 50,000 | £3,378 | £4,662 |
| 60,000 | £4,665 | £6,462 |
| 70,000 | £6,093 | £8,292 |
| 80,000 | £7,593 | £10,191 |
| 90,000 | £9,093 | £12,186 |
| 100,000 | £10,593 | £14,184 |
| 110,000 | £12,093 | £16,185 |
| 120,000 | £13,593 | £18,186 |
| 130,000 | £15,093 | £20,184 |
| 140,000 | £16,593 | £22,185 |
| 150,000 | £18,093 | £24,186 |
| 160,000 | £19,593 | £26,184 |
| 170,000 | £21,093 | £28,185 |
| 180,000 | £22,593 | £30,186 |
| 190,000 | £24,093 | £32,184 |